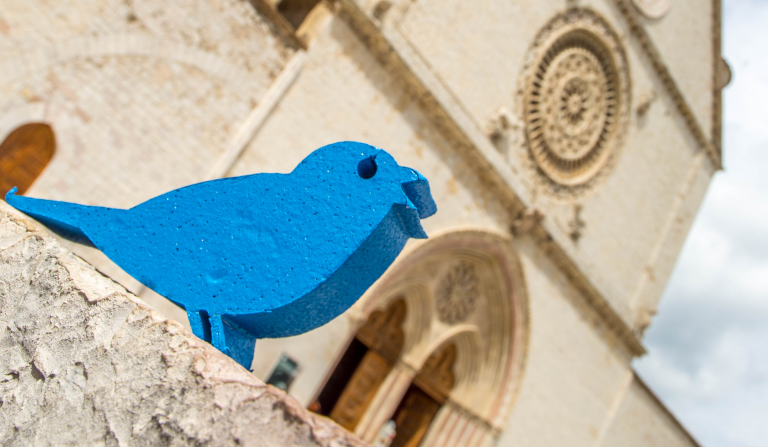 The main intention of Tweeting with GOD is to help people discover answers to their questions about the Catholic faith, interacting with them through an integrated mix of contemporary online and offline media.
The scope of Tweeting with GOD (#TwGOD) is to help people discover the beauty and logic of the Catholic faith. Tweeting with GOD intend to stimulate a personal encounter with Jesus Christ by engaging into dialogue about God, the faith and the Church. The initiative wants to show that Jesus speaks simultaneously to your head, heart and hands. The Church's task has always been to proclaim the Gospel "where people are", and should also use modern media to propose Jesus' message.
Tweeting with GOD is called to life in Leiden, The Netherlands, by young people looking for the meaning of faith in their own lives. Now, the initiative can be found all around the world. The team behind Tweeting with GOD consists of young people from all around the world who want to work wholeheartedly towards the objective and core message of its mission. Volunteers from around the world – currently from 50+ countries – work on a day to day basis to make this a reality. The team is lead and supervised by Father Michel Remery.
Tweeting with GOD has proven to be a great help for personal deepening of the faith. The initiative uses a book and course material, an app, a website, social media and videos to reach out to a wide range of people worldwide, with different needs and expectations, in groups or individually, online and offline. While the programme was developed by and for young people, it virtually addresses everyone who desires to know more about the faith and is looking for answers. This includes those who wish to become Catholics and those who are preparing to receive the Sacrament of Baptism, Confirmation, First Communion, or Marriage, for example.
Teachers, parents, godparents and all those related to children and young adults feel that they are helped by Tweeting with GOD when confronted with complex questions about the faith. People of all ages who want to learn more about faith, grow in their relationship with God, share their faith with others and be able to answer difficult questions about faith, have found the Tweeting with GOD tools extremely practical. The initiative offers special support to youth leaders, as well as to school catechists as the book, manual and online material can provide simple and accessible bases of religious education in secondary schools.
A book with short clear answers

The Tweeting with GOD book covers all the main aspects of the Catholic faith. Themes include God and creation, the Church, prayer and liturgy and life as a Christian. In total, the book contains more than 200 questions and answers, presented in an attractive and modern style. The book can be used either alone as a source of study and reference or as a means to foster dialogue in groups. The book is available in 20+ languages.
The book and online content are linked through an App, available for iOS and Android. With the App, users can scan the picture on any page of the book with their smartphone: the app automatically shows the related online information of the question at hand with interesting extras, such as quotes from the Popes and Church Fathers. A search function helps to easily find questions, enabling one to learn about the faith online and on the go. Furthermore, the App gives access to texts of Catholic prayers and Holy Mass in many languages. These make the App a portable liturgy and prayer book which is ideal for travel! It can also be used effectively without the book. The App is available in 30+ languages.

A team of young people ensures a continuous presence on social media: Instagram, Facebook, Twitter, and YouTube. Together with Father Michel they answer questions, engage in dialogue with participants and post relevant questions and answers. If necessary, the team can refer someone to a priest or counsellor. Brief 2-minute videos are posted to social media and YouTube on a regular basis to convey messages in a dynamic and engaging way.
Annual Report Tweeting with GOD & Online with Saints