Welcome to JP2.nl
Following the example of blessed Pope John Paul II, the JP2 Foundation is committed to proclaim and explain the Gospel and the Tradition of the Catholic Church, recalling the words of Saint Paul: "proclaim the message and, welcome or unwelcome, insist on it" (II Tim 4:2).
Blessed John Paul  II
Was born as Karol Wojtyla in Wadowice in Poland on the 18th of May, 1920. In 1964 he was appointed archbishop of the Polish town Kraków, in 1967 he became a cardinal. In october 1978 he was elected Pope John Paul II. He died on the 2nd of April, 2005.
Prayer to JP2
God, our Father,
we want to extend to you our gratitude,
because You have given
to Your Holy Church
Blessed Pope John Paul II.
Through his dedication to Your divine mercy
and his love for the Virgin Mary,
through the power of the Holy Spirit,
he has become a shining example of
Jesus, the Good Shepherd.
Activities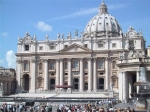 Visiting Rome
Leidse jongeren bidden voor de Wereldjongerendagen
Read more
All activities